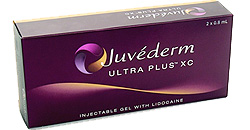 JUVÉDERM Ultra Plus XC injectable gel is a safe, US FDA approved, colorless, hyaluronic acid gel that is injected into facial tissue to smooth wrinkles and folds.
Hyaluronic acid is a naturally occurring sugar found in the human body, but it diminishes as we age. The role of hyaluronic acid in the skin is to deliver nutrients, hydrate the skin by holding in water, and to act as a cushioning agent. A fine needle is used to inject Juvederm Ultra Plus XC immediately under the wrinkle or skin fold where it adds volume to smooth the surface of the skin.

JUVÉDERM Ultra Plus XC is a naturally occuring, linear polysaccharide. Found in the extracellular matrix of connective tissue, synovial fluid and other tissues. There is no antigenic specificity for species or tissues and these agents therefore have a low potential for allergic or immunogenic reactions.
JUVÉDERM Ultra Plus XC is the first and only premium HA dermal filler available in Thailand with lidocaine for patient comfort. it is the cohesive HA filler which provides lift capacity to retain volume. It lasts up to 1 year, providing the opportunity for a long-lasting outcome.
JUVÉDERM Ultra Plus XC injection can instantly lift wrinkles, folds, indented scars, and can augment the skin and lips. One treatment with Juvederm Ultra Plus can correct contouring for up to one year. Juvederm Ultra Plus is a more robust form of Juvederm Ultra, generally used for correcting deeper folds and hollows. Juvederm Ultra Plus contains no animal protein, which eliminates the risk of contracting animal-borne diseases.
JUVÉDERM Ultra Plus XC temporarily adds volume to facial tissue and restores a smoother appearance to the face. It is injected into areas of facial tissue where moderate to severe facial wrinkles and folds occur. It temporarily adds volume to the skin and may give the appearance of a smoother surface. It will help to smooth moderate to severe facial wrinkles and folds. Most patients need 1 treatment to achieve optimal wrinkle smoothing, and the results last about 1 year.

Treatment side effects are usually mild to moderate, lasting 7 days or less, and include temporary injection-site reactions such as redness, pain, firmness, swelling, and bumps. It is not for people with allergies.

Procedure
I will inject local anesthesia before the filler is injected directly into the area with using a very small needle. There may be a stinging or burning sensation as the filler is inserted. A series of treatment sessions may be necessary to fill and smooth the lines and wrinkles, or raise a depressed scar to the level of the surrounding skin.
After Procedure
After the procedure there may be some temporary swelling, redness, or minor bruising at the injection sites. This usually subsides quickly. Makeup can be applied immediately after the treatment.
Price
Juvedrem Ultra Plus XC 1.0 ml. / Syringe = 12,000 Baht

For Juvedrem Ultra Plus XC injection, the result depends on how deep the fold and how much the volume of Juvedrem Ultra Plus XC that we inject so the result depends on the volume that we use is enough or not. I charge the money according to the ml. of Restylane that I use.
This price includes everything: surgeon fee, topical anesthetic cream, local anesthesia, medicines, and follow up. Payment by cash Thai currency.
Contact Us
In case the patients have any more questions or need more information, you can use any of the following methods to contact us
- Call us directly at +66 83 396 9976 or +66 81 3373413
- e-mail us at: Contact Us or dr.pongsakorn@yahoo.com