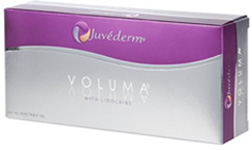 JUVÉDERM® VOLUMA™ injectable gel is a safe, US FDA approved, colorless, hyaluronic acid gel that is injected into facial tissue to smooth wrinkles and folds.

JUVÉDERM® VOLUMA™ is an innovative injectable hyaluronic acid facial filler from Allergan Company, USA specifically made to restore age-related volume loss in the mid-face (the cheeks, cheekbones and around the chin) and firmness to a softening jaw line.

JUVÉDERM® VOLUMA™ also combines with collagen and elastin to improve skin structure and elasticity, and create a smooth natural look. The results are instant, natural looking and can last up to 2 years, longer than many other facial fillers.

Procedure
I will inject local anesthesia before the filler is injected directly into the area with using a very small needle. There may be a stinging or burning sensation as the filler is inserted. A series of treatment sessions may be necessary to fill and smooth the lines and wrinkles, or raise a depressed scar to the level of the surrounding skin.
After Procedure
After the procedure there may be some temporary swelling, redness, or minor bruising at the injection sites. This usually subsides quickly. Makeup can be applied immediately after the treatment.
Price
JUVÉDERM® VOLUMA™ 1 ml. / Syringe = 12,000 Baht

For JUVÉDERM® VOLUMA™ injection, the result depends on how deep the fold and how much the volume of JUVÉDERM® VOLUMA™ that we inject so the result depends on the volume that we use is enough or not. I charge the money according to the ml. of Restylane that I use.
This price includes everything: surgeon fee, topical anesthetic cream, local anesthesia, medicines, and follow up. Payment by cash Thai currency.
Contact Us
In case the patients have any more questions or need more information, you can use any of the following methods to contact us
- Call us directly at +66 76 304 222 or +66 83 396 9976 or +66 81 3373413
- e-mail us at: Contact Us or dr.pongsakorn@yahoo.com